DGC COVID-19 UPDATE
Our Board of Directors and Management held a meeting last night to address the Coronavirus situation and the best way to handle it at our club.
We will continue to be open on our regular hours for shooting ONLY at this time. We are asking the following:
1.) NO Guests Allowed
2.) Maximum group size for Sporting Clays is 5 and will be pull your own.
3.) Each group will be assigned a card that will be cleaned by DGC staff after every use.
4.) Skeet coins have all been cleaned and will be cleaned daily. Skeet is also pull your own.
5.) 5 Stand will be available to shoot. This is the only shooting event that will have a puller.
6.) The use of the clubhouse will be limited to bathroom use or emergencies.
As of today the Sporting Clay Tournament that was scheduled for Sunday, March 29th has been cancelled. Also the Springtime Open Skeet Shoot scheduled for April 4th and 5th has been cancelled.
And lastly, our Jessica's baby shower has been postponed. Remember she and Aron are registered at Buy Buy Baby (548515415), Amazon (Jessica Walsh, White Lake, MI), and Target (Jessica Walsh and Aron Wyrick). There will be a card box located at shooting counter.
Recommendations:
1.) Bring something to drink
2.) Bring hand sanitizer
3.) How should you handle your shotgun?
Shooters should wipe down the parts of the gun that touch the golf cart.
4.) How should you handle the golf cart?
Walking is the best way to go, but if you ride, you wipe. Wipe the steering wheel and seat and minimize the risk of other people who used the cart.
5.) How should you handle the clubhouse?
Get in, get out and keep your distance. Social distancing is increasingly advised to slow the spread of infection. Avoid time in the clubhouse. Sit outdoors with 6 foot radius from others if possible. Again, wash your hands or use hand sanitizer after touching any high touch areas like door handles, desks, etc.
6.) How should you handle shooting partners?
In general, don't shake hands. Do something else like an elbow bump, as elbows are not high contaminated areas. Do welcome your shooting partners and say congrats. Just find different ways than a handshake to express gratitude.
Let's all do our part to end this virus.
Thank you for your patience and understanding,
Your Board of Directors and Detroit Gun Club Management
Classifieds

Zoli
30 inch Barrel – Sporting Clay
Custom Extreme Chokes
Adjustable Butt Plate
Adjust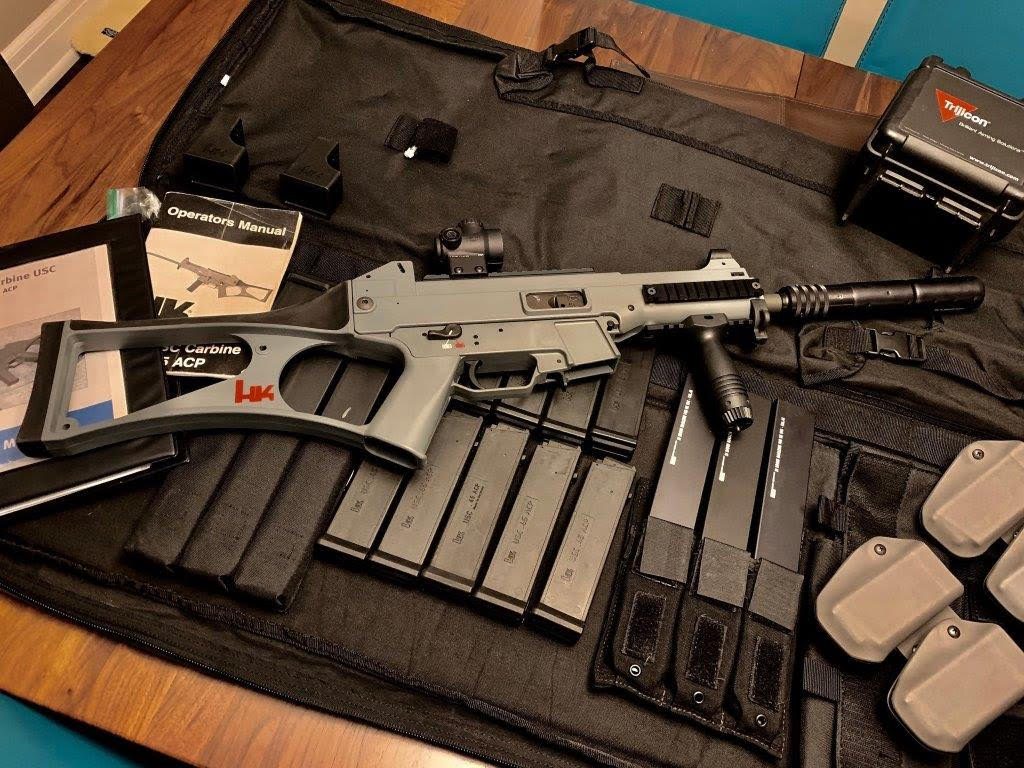 Heckler & Koch Universal Self Loading Carbine (USC)
.45ACP in excellent condition as a package: Trijicon MRO, 3-Hera aluminum formed 20 round mags, 3-proMag Polymer 20 round mags, 10-H&K 10 round mags, H&K Parts net faux suppressor, H&K Foregrip, H&K sling, 2-H&K mag loaders, 2-manuals, Loaded Gear soft case, 2-custom gray kydex double mag pouches, 2-nylon black triple mag pouches.
$3,600.00
Doug Hardy

Browning Saeet 16 (A5)
1950's Vintage
Excellent Condition
For Sale by Fred Riddle
248-935-6966
Email: fredriddle@aol.com
Can send pictures upon request
$1,799.00
At the Gun Club...

real feel: 90°F
current pressure: 30 in
humidity: 63%
wind speed: 7 mph SW
wind gusts: 13 mph
UV-Index: 2
sunrise: 6:04 am
sunset: 8:58 pm
Club Hours:
WE ARE OPEN WITH LIMITED HOURS (MEMBERS ONLY)
LIMITED HOURS UNTIL FURTHER NOTICE
Wednesday 11 am - 6pm
Saturday and Sunday 10 pm- 4pm

Summer Hours
(April through October):
Starting April 2nd-Every Tuesday at 12:00 pm-Pull Your Own Tuesday- 12:00-6:00
Wednesday - 1:00 -8:00
Saturday & Sunday - 10:00 - 4:00
Last Tuesday Open:
First Tuesday After Labor Day

Winter Hours
(November to March):

Wednesdays - 3:00 - 8:00
Saturday & Sunday - 10:00 - 4:00
Proud Members Of:
The National Skeet Shooting
and
Sporting Clay Associations.